"Prologue provides personalized service in professional brand management and representation. Our clients receive individual attention from our representatives who are accessible at all times. Our team has extensive experience in the areas of cycling, product training, sales, as well as business development, enabling us to provide our clients with time-effective business-oriented solutions.
With knowledge of all types of cycling, Prologue is uniquely positioned to suit the needs of our diverse clientele. By delivering efficient and thoughtful response, we are critical advisers to our clients, for all needs of the modern bicycle industry.
We are deeply committed to the highest level of professionalism at every stage of every matter. Consistently, we are committed to individualized attention, careful planning, analysis and implementation with the client's specific needs in mind."
Ernesto Calderin
Ernesto Calderin is the Founder and Principal of Prologue, LLC. A native to Indianapolis, IN, the home of Zipp Speed Weaponry, Ernesto combines a deep understanding of our clients business needs with the cycling heritage of his hometown.
During his time working behind the corporate doors at Zipp, he managed global product education and was liaison to the international pro teams. This role placed him on the cutting edge of the product development and brand communications.
Aside from working with some of the fastest athletes in the world, Ernesto also reached a high level of cycling in his own pursuits. He is an accomplished mountain bike and road racer who still loves a high paced ride today.
When the opportunity was presented to transition to managing the northern California region in 2010, Prologue was born. Ernesto is still the driving force behind Prologue and his extensive experience provides reliable counsel to our clients.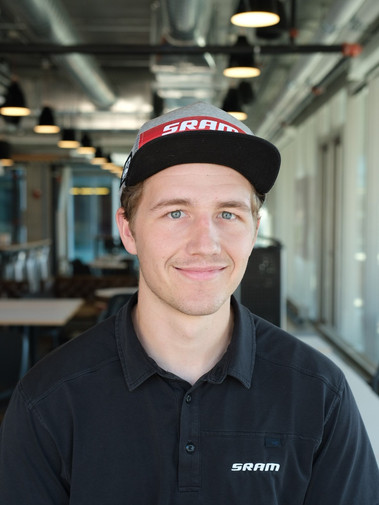 Brian Cahal
Brian Cahal is the newest member of the prologue team and brings a youthful enthusiasm to the group. Born and raised in Martinez California and working at local bike shops since the age of 15, Brian has a strong understanding of product and the local cycling community. After starting his downhill racing career just five years ago Brian is entering into his second year as a pro and is actively pursuing his professional racing career. Being an active participant in the racing community Brian brings acute knowledge of what riders need from their equipment at the highest level. While being in the dirt is his natural habitat, Brian has an enthusiasm and a desire for knowledge in all realms of cycling.
Gaelan Mundorff
Gaelan Mundorff was born and raised in San Francisco California and began racing road bikes at the age of 12. His passion for cycling soon became part of his every day life and at the age of 15 he got his first job at a bicycle shop. Hospitality and customer service is the leading factor in his approach to interacting with riders and clients, and he's a true believer in finding the right products that can take a riders performance to the next level. His career in the industry has given him a unique perspective and a clear insight into the ins and outs of shops. Gaelan loves cycling in all its forms and strives to make sure riders of all levels are helped to reach their personal goals.
Brad Flint
Brad Flint has had a passion for all things bicycle for aslong as he can remember. From a young age he was building and jumping BMX bikesin his hometown of Folsom, CA. That grew into a more focused career path whenhe started working at bike shops in the Lake Tahoe area and instantly became adie-hard mountain biker. From working at shops to running demo events with bikecompanies, Brad has cultivated his knowledge of all genres of bikes and isdeeply connected with the bike community. Whether he is searching for the nextall day epic or spending the weekend helping dig and maintain trail networks,Brad is always ready to talk tech or debate parts choices over a fast pacedride with great friends and new acquaintances.